Sara Davis is the VP of Operations of Foxtail Marketing. When she isn't geeking out optimizing systems and processes, you can find her advocating for women in the workplace.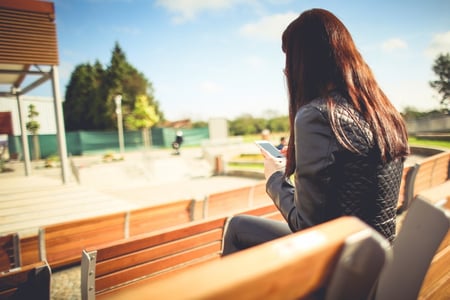 The key to building a successful inbound marketing campaign is
creating content your customers value.

With organic reach diminishing on almost every social media channel, why should brands and business owners be investing in inbound marketing at this point?
Social media isn't dead, it is evolving. As marketers, change is a constant. We must choose to embrace change, and strategize. That being said, social media also isn't the end-all be-all of inbound marketing. Inbound marketing that targets your buyer personas, evokes emotion, and hits their pain points is the best way to attract and convert customers.
The key to creating a successful inbound marketing campaign is creating content that your customers value. If every social post, blog, or email you send out is regurgitated from other content on the web, it holds no value to your customers. And, if it holds no value, they won't engage or convert.
Non-intrusive advertisement is becoming increasingly popular, in the age of Ad Block and call screening. How can inbound marketing help a company capture the right kind of attention?
As with social, ad-blocking and call-screening simply force us to pivot focus. I don't believe there will ever be a day that paid ads on the internet will completely die off. That being said, if you're worried about the damage potential of ad-block or call-screening, inbound marketing is a viable solution.
Ads can be annoying, and inbound marketing is all about authentically getting your message to people who care. By using inbound tactics you aren't being "that obnoxious" company with "obnoxious ads." You will be building rapport and trust with your target audience by using organic tactics that provide them real value.
With the recent changes to search engine algorithms measuring not only keywords but also backlinks and social media mentions, how can high-quality content help a company climb the search engine rankings?
You've all seen a post on social media go viral in a matter of hours. How do they do it? They trigger an emotional response. In your social media content, if you can trigger an emotional response in your audiences you can easily build your backlink portfolio exponentially. When Google crawls your mentions and links created by other users, they will see you as an authority, and your rankings will increase.
Even if your content doesn't necessarily go "viral," you can create content that triggers a response and gets people talking. And if you can stir up a conversation consistently, it will be noticed.
Inbound marketing has many different steps and phases, from blogging to e-mail lists to social marketing. Should companies still be blogging, at this point, as part of their inbound marketing strategy? What are some of the benefits of blogging?
Absolutely, but with one caveat - know your why. Creating content to create content is of no benefit to anyone. Sure, it might help improve your search results, but it won't move the needle very far. A blogging strategy is immensely important. What types of content do your readers care about? How can you provide them value on your blog?
Using BuzzSumo, Google Analytics, and competitive research will help point you to ideas of content that is resonating. Build on that content first, and then really dive into the "why" of your personas. What do they desire of your product or service? What do they do at night? What books do they read? If you know this, and apply it, blogging will become infinitely more valuable.
Inbound marketing also helps a company get established as a thought leader in their industry. After so many years of dishonest advertising and cynical marketing, how can this help a business surpass their competition?
It doesn't. Dishonest and cynical advertising can happen no matter what avenue you're pursuing. The only way to surpass your competitors is to create a culture of warmth and competence. You're customer experience should be so phenomenal that others rave about your brand. Your product or service should be exquisite and be what you claim it to be.
That said; if you are both warm and competent in your overall brand experience, you can leverage inbound marketing to resonate that message to your target audiences.
Another aspect of inbound marketing requires getting creative, driving traffic by looking for unconventional advertising opportunities, like sponsoring local events or backing Kickstarters or GoFundMes. What are some other unconventional places to advertise a business?
Right now? Pokemon. You can run promotions for catching certain Pokemon. If you have a brick-and-mortar store, you can leverage lures and incense at your location. You can offer discounts, run social competitions, and so much more. If you have any sort of local presence, you should be taking advantage of the frenzy.
While it may not stay a frenzy forever, the idea is to get creative. What about buying trendy branded hats, shoes, sunglasses, etc., for your employees and your clientele? If they are well-made, you've just build yourself brand-advocates and are increasing awareness every time they are worn.
These types of promotions also help a company be seen as philanthropic, which is PR gold in these social times. What are some ways that public opinion of a company/brand are so essential, and how can inbound marketing be used to help influence those opinions?
When you understand the basics of human physiology, you learn that one of our desires as humans is to belong to a community. Consumers attach to brands that have core values that align with an individual's core values. What do you care about? What good are you doing in the world? How do you treat your employees? What impact are you making?
If you know your core values, you can highlight them in the deployment of your inbound tactics. Done correctly, you'll buy-in, and return customers from those who support your cause.
The idea of a "brand persona" might have seemed rather abstract and hard to define a decade ago, but it's essential to how we do business today. How can inbound marketing be used to convey a particular tone, mood, value or strength in the crowded digital marketplace?
Consistency. You must be consistent with your message, in all avenues of your company; online and offline. When you are consistent with your brand persona, you won't need to "stand out." Your buyer personas and your customers will know.

All of your marketing materials should be consistent with your brand persona at all times.
What are some ways that a company might analyze their ideal customers and buyer personas to fine tune the absolute best possible content and marketing, to give their customers something of real use and value in their lives?
Fine tune your ideal personas. Talk with your current clients, send a survey, and form a discussion on their needs.

Analyze what you're good at, as well as what you're bad at. When clients quit, why are they quitting? If you're a service provider and you notice that client's in certain industries just don't seem to stay with you very long, maybe you shouldn't be working with them.

There are a wide variety of tools that help you to aggregate data on your customers, but the easiest way to start is your competitors. What are they doing that's working? How can you improve upon that? Don't reinvent the wheel.
With all of this in mind, how much time should a company be dedicating to inbound marketing a week? What should they do if they just don't have the time or resources to dedicate at the moment?
The amount of time per week is irrelevant. The real solution is, find out what's working, and do more of that. You could have more leads than you can handle with 2 hours of week a month, or you could work for a month and not get any results. Do more of what works, and less of what doesn't.

And if you don't have the resources, there are a huge plethora of marketing firms and agencies out there who would love to help you get the results you need. Ours included. ;)
Inbound 281 wants to give a special thanks to Sara and Foxtail Marketing for taking the time to help us out with our blog. For more insight into creating successful inbound marketing campaigns, be sure to check out our blog article "Rev up your inbound marketing strategy: 4 inspiring TED Talks."
Get your free copy of our eGuide, "Marketing In-House vs. Hiring an Agency," to determine if hiring an outside agency or using your own team is the best option for your brand to manage your inbound marketing campaigns. Each route has its own unique benefits, and this guide can help you decide which approach is right for you.
Make sure to connect with us on LinkedIn to get valuable insight on the latest news in marketing and website design. Follow us here: