---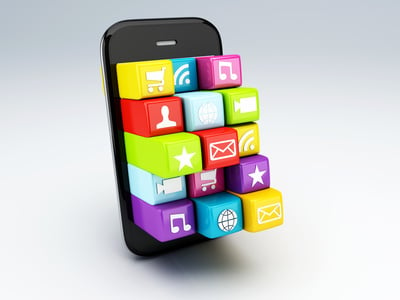 Technology can be the bane or the boon of every marketer's existence. The key is not to get so excited over the mere existence of something cool or new that you overlook whether or not it's even relevant or useful for you business.

But – heck – it's still so fun to see what's new and cool, right? So, with your company's needs and abilities always in the back of your mind, allow us to present to you some of the most awesome innovative marketing apps that could – possibly – just maybe – do wonders for your business.
---
1. Life Graphy
Is your phone or tablet's calendar too dull and un-dynamic for you? Do you need more gratification when you complete a project or task? Meet Life Graphy, a friendly and bright app that can break down tasks into pie charts across user-set segments. When you complete a task, the chart starts to fill up until the whole circle is filled. Think check-list only more awesome. You can view charts and tasks for the day, the month or the whole year to see where you're the most productive and where you need to improve. Plus, it's just a lot of fun to use – much more fun than a plain old check-list.

2. Jelly
Imagine the gratification of asking a search engine oracle and getting a slue of useful answers and combining it with crowdsourcing for answers from actual people you know and respect. That's Jelly. Ask a super specific question that's really eating away at you, such as "How can I prove to my client that our social media strategy is fully optimized for ROI?", and get an answer from a bunch of different sources in your social media sphere. Amazing, right?

3. Directr for Business
You probably aren't a movie director. In fact, most marketers don't really know the first thing about producing a video, whether it's a product "how to" or a simple marketing teaser. With Directr for Business, you can fake that talent and make your prospects believe you hired out to make the innovative marketing video. Thanks to its many production templates, you can create useful marketing videos step by step – using shot-by-shot storyboards and how to prompts. It's almost a mini film school for visual marketers. And, since your tablet and phone likely have cameras and light editing software, you can shoot and even complete and upload all in one place.

4. Any.Do Moment/Cal
With a cute title that's a play on the infamous "Honey Do" list, Any.Do allows you to plan your days and even manage your professional (and personal) life in one easy to use application. You can schedule what needs to be done into 4 categories: Today, Tomorrow, Upcoming and (the wistful) Someday. And, these tasks – be it an upcoming email blast or a someday trip to Fiji – can be sorted into folders. Notes and contacts can also be added in for easier execution as needed. It's also integrated with your calendar app – and the tasks sync both ways for ultimate usability. When it comes to planning innovative marketing outreach and interactions, Any.Do is a potential lifesaver.

5. Pocket
With so much great and useful content gone digital, it's not as easy as stuffing an article or note into your pocket for later. Actually…with Pocket (formerly known as Read it Later), you can bookmark articles, videos and sites of interest for you to load up later on. What's great about this is you can sync it up with your computer, tablet and phone to create a master list that's viewable from anywhere – since who knows when you'll find a free moment to dig into all of this great stuff.

What are the innovative marketing apps that make you more productive and your business more profitable? We know that are more than 5 – so tell us what you love in the comments below. Be sure to let us know what platform you're using them on as well. Some common section headers include:
---
CONCLUSION:
To learn more about how you can get more from your mobile marketing hire a creative "Innovative Marketing Agency" download The Ultimate Guide to hiring an Inbound Marketing Agency.
---