There is no one-size-fits-all strategy for inbound lead generation.
Some tactics work better for specific businesses or certain industries, so it's important to take a holistic approach if you want to boost your leads.
Try one of these four tips to streamline your lead generation and maximize your inbound marketing ROI.
1. Design clear and concise landing pages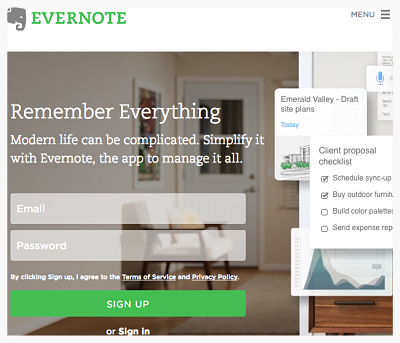 The easiest way to confuse and irritate potential customers is to give them too much information or too many options. Simplicity is the new gold standard for web design and content marketing, especially for landing pages and other key areas of your website. Why is simplicity key? It all comes back to your marketing goals. Before we even start marketing, we set smart goals, for example - your goal might be to acquire 50 new contacts in two months. If you want to reach that goal, you need compelling landing pages that make sense, look reputable, and visually guide visitors to what you're offering. A streamlined design and a single offer keeps visitors focused to fill out the form and become a new contact.

HubSpot reminds marketers that landing pages only need one call-to-action (CTA). For example, the note-taking and organization app Evernote uses a beautifully designed layout that gives just enough information to lead someone to the call-to-action. To create the most relevant CTA for your audience, decide how you want your prospects to respond to the content, then give them that single option. Will they "sign up for a free trial," "get started," or "check out our blog"? It's up to you.

This tip doesn't just apply to landing pages, though. If your social media posts contain multiple links, for instance, you don't know whether your prospects will click the one that really matters. Similarly, you can add a single call-to-action to each of your blog posts rather than muddying the waters with multiple links.
2. Create clean and scannable email content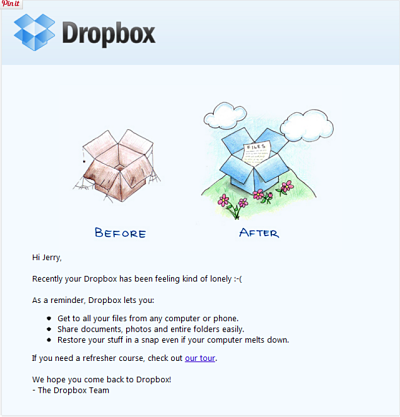 While email marketing offers a compelling and useful tool for your inbound marketing strategy, it's often misused. If your emails contain long paragraphs of text, multiple images, or dozens of links, you may be turning off more customers than you're attracting. Consider the above email created by Dropbox - it has emotionally-charged graphics, scannable copy, a friendly layout, and clean bullet points.
Consider how the increase of mobile users is changing the way people view their emails. As of 2015, the software company Litmus shows that 53% of email users open emails on a mobile device. Are your copy and graphics easily-digestable to a mobile-user?
Once again, focus on simplicity. Eliminate all unnecessary words and include just one image or relevant graphics. Make your reason for sending the email perfectly clear so readers don't think you're bothering them unnecessarily. Additionally, don't send emails every day or even every week. Only email your prospects when you have something important to say.
3. Show off your brand's personality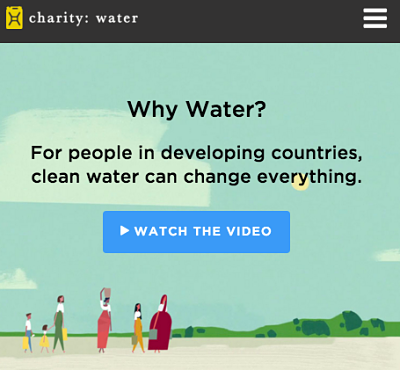 Landing pages, emails, social media posts, and online content don't have to be dry or dull. Inject some personality and human elements into every facet of your communications so prospects have a reason to stick around. If you can get a laugh or a nod of agreement from potential customers, they're more likely to return for more.

There is no pressure to make witty puns or poke fun at people. We recommend using your brand's mission and vision to help you develop your company's voice and unique approach. Charity Water accomplished this brilliantly. The organization uses a stunning design and clear words to show off its cause - helping people in developing countries gain access to clean drinking water. As Charity Water shows, authentic communication keeps you engaged because the design and copy work together to spring curiosity to watch the video. Ultimately, this type of clear communication helps generate more interested and qualified leads.
4. Strategize for effective lead-nurturing
The previous three tips are only a snippet of an effective lead generation strategy. If you want your leads to become customers, you must also have a way to nurture them. Whether it's sending them links to content they might find appealing or engaging with them on social media, make sure you stay connected. Silence is the death knell of any inbound marketing strategy.

Lead generation takes work and practice, but if you keep tweaking your strategy, you'll see results. If you're frustrated by your lack of leads, contact us to find out how we can turn your strategy around.
Effective lead generation relies on your ability to get your potential customers the right information at the right time. This free content audit worksheet can help you to align your content to your ideal buyer personas in order to provide prospects with the resources they need most as they go through their decision-making processes.
Make sure to connect with us on LinkedIn to get valuable insight on the latest news in marketing and website design. Follow us here: