Are you unsure of what content marketing services you need to implement successful closed-loop marketing? Well, you're in luck because an exciting and in-depth new Ebook called "An Introduction To Closed-Loop Marketing" has just been released for download. Inside its pages, you'll be walked through the setup and implementation process step-by-step, and receive full explanations of how closed-loop marketing works and how it can help YOU become a better marketer.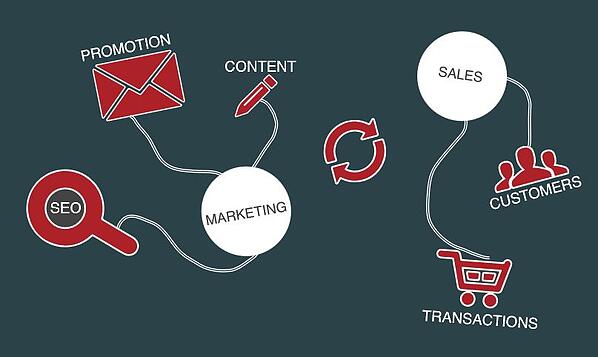 What You Need To Set Up Closed-Loop Marketing
Presented by inbound and online marketing expert Mark Parent, in chapter two of "An Introduction To Closed-Loop Marketing", you'll learn that "in order to set up closed-loop marketing, you need to map marketing activities to sales."
Closing The Loop Between Marketing and Sales
Mapping marketing activities to sales is an integration that requires connecting your marketing software to your customer relationship management (CRM). In other words, you'll need to tie the intelligence emerging from your marketing communication with your various levels of customers and targets to the intelligence your internal team has built with these very same people.
API – The CRM and Marketing Software Connection
As a sophisticated marketer, you want your CRM and Marketing Software to talk to each other. When one of your sales representatives closes a deal, she or he can make that sale as "won" in your CRM and that will trigger an update in the marketing software. You can then go back and see where this new customer originated, what channel attracted them, what pages they viewed afterward and pinpoint the moment they converted into a lead.
Intelligence Exposed – Understanding Conversion Assists
Such intelligence will expose conversion assists and the pages on your website that converted into leads or customers. Understanding a website's conversion assists can help marketers identify the most influential pages they own. That can shine a light on why those pages are so effective – and why others are not – and you can apply these insights to improve all pages and ultimately enhance your entire marketing scheme.
CRM + Marketing Software – More Positive Impact
As you'll learn in the new "An Introduction To Closed Loop Marketing" Ebook, tying your marketing software to your CRM impacts your business in even more positive ways. By aligning sales and marketing and defining the operations between the two departments, there are countless other benefits emerging from the integration, chief among them:
Sales Assignment Rules
The type of campaign, lead grade or conversion event can trigger workflows in your CRM system.
Lead Scoring
Once you mark a sales as "closed won" in your CRM, you can work backwards to assign point values to the lead's demographics or specific actions taken on your website. These will all be indicators of the lead's probability of converting into a customer.
Lead Nurturing
As a result of your lead scoring mechanism, you will easily identify leads with low lead grades. Now you can handle them in a more efficient way by sending them to a lead nurturing campaign rather than a sales person.
Custom Lead Scoring
You can also customize the way you assign high grades to your leads. You can also use the qualifying questions on your lead capture forms to calculate a custom lead score.
Setting Monetary Goals
Tying your marketing software to your CRM system also allows you to set a dollar figure as your campaign goal. Rather than measuring your impact through traffic and leads only, you can focus on the actual customers that certain channels and efforts brought into your organization. This is especially valuable if you have a lot of money riding on a particular campaign.
When you allow your CRM and Marketing Software to talk to each other through an API, you instantly become a more powerful and effective marketer.
Learn how to achieve this integration. Download "An Introduction To Closed Loop Marketing".