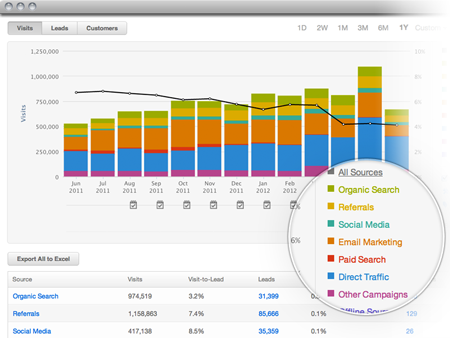 Cross-channel marketing is challenging...
Cross-channel marketing is challenging to strategize, time-consuming to implement and frustrating to measure. So why do it?
Because if you're going to identify and approach today's customer, you need to be where they are. As more silos emerge – from email and texting to social media, content marketing, apps and beyond – targets become increasingly far-flung. So getting those conversions will rely on your ability to manage your channels and deliver relevant content.
Not just following people from one channel to the next, but getting them to move freely among your channels as well. Managing cross channel (or "integrated") media is grounded in one basic tenet:
Before you look at the channels – look at the customer
Customer relationship management CRM is hardly a new concept, but it's taking on new impact as cross channel marketing finds its foothold in the selling environment. Connecting the two components is an application-programming interface (API) that is a protocol used as an interface to connect the marketing automation platform so they can communicate with each other.
CRM is the tool where the management of the customer relationship takes place. Cross channel is essentially where all the marketing takes place. Properly synchronized with the help of the API the CRM can store all the sales and marketing activity giving the organization insights and visibility on each individual's data and behaviors.
Take the case of Southwest Airlines, which evolved into a marketing powerhouse using integrated media. In 2010, the airline's long-running "Click'n'Save" campaign used email to drive customers and prospects to its Facebook and Twitter feeds.
The social media reinforced the email's fare-saving offer. As a result, Southwest's " two highest transaction days [were] when they [sent] these emails out," as Responsys CEO Scott Olrich explained to CRM.com. Click'n'Save then branched out into "dings" of special fares sent directly to smartphones and desktops.
Your own cross channel and CRM may take different forms and net different results, but it is grounded in creating an ideal, easy to use experience grounded in benefits that resonate with the target audience.
Content management
Customers don't want to spend time searching for your content – too much hassle. But they don't necessarily want it shoved in their faces either – too reminiscent of the old "outbound" or interruption-marketing days.
One of the great challenges of cross-channel content creation is that people expect particular media to address them in particular ways. That's where more Relationship Based or Relevant Marketing comes into play.
Tracking of explicit needs (data purchased or data collected in a web form) and implied needs (clicking on links, page visits, video views etc) can then trigger very relevant marketing experiences for customers and prospects based on personal preferences and behaviors.
Amazon is a good example of that. If you have ever purchased a book at Amazon you will be offered recommendations similar to your purchase. People who have bought this also purchased this. If you have clicked a link and not made a purchase you might notice the item show up in the "you viewed" section as an option to purchase.
Let's take a look at Amazons relevant workflow based on your behavior. If you have searched for a product you might see something like this below.
You viewed - recent view
Related to Items You've Viewed - options to what you have viewed
New For You – New items based on previous purchase history
Inspired by Your Browsing History – self explanatory
Additional Items to Explore – electronics based on browsing history
Top Picks in Men's Shoes – gender based
Data management
Even the experts agree that cross channel marketing is hard to measure when marketers are working in separate silos. The fragmented nature of the separate silos don't allow for easy measurement of email clicks, Facebook likes, landing page visits and conversions etc.
That makes measuring real conversion – from visitor to lead to customer – a challenge to assess. This is where marketing automation plays an important role. A single silo approach to all marketing media helps organizations get insights and visibility on what media is working and what is not.
Ultimately, you'll want to leverage marketing automation to assess what channels work best with your customers – then leverage their appeal to the lower-performing channels to get cross channel benefit.
An easy task? No. But it can pay off in clicks, conversions and revenue. Look to streamline your cross channel marketing efforts? Look for a trusted Inbound Marketing Partner to help you get the most out of your marketing efforts.