With the economy on standby and purchasing at a standstill, the coronavirus crisis has put a strain on companies big and small. Businesses are struggling to keep their sales pipelines full.
Some companies, however, are weathering the storm better than their competitors. These companies may actually come out of this crisis stronger.
Why are these companies thriving? What makes them different?
The difference is these companies employ inbound marketing lead generation best practices to maintain a full sales pipeline.
What are these tactics and why are they important? Continue reading to find out.
Need Lead Generation Help in These Uncertain Times? Schedule a Free Consultation Today.
15 Ways to Attract and Nurture Leads in Good Times, Bad Times and
All the Time
Here are 15 lead generation and lead nurturing best practices that all good companies should employ. The "Get Found Online" tactics will help you attract leads. The "Convert and Nurture Leads" tactics help you move leads through the buyer's journey toward the ultimate sale.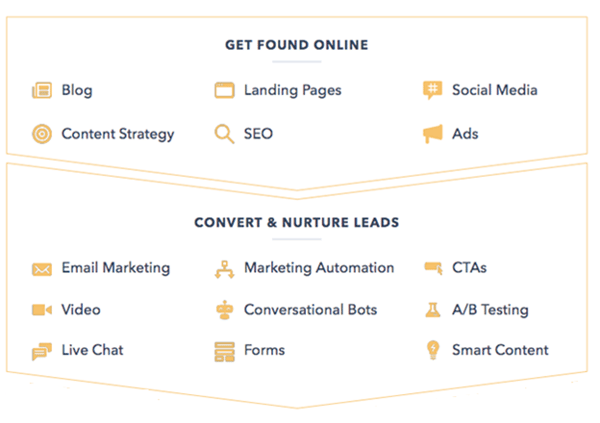 Here's a rundown of these tactics and how they help.
1. Blog
Blogging helps attract leads by positioning your website as a relevant answer to your customers' questions. Blog posts that use SEO give you opportunities to rank in search engines and get customers to visit your site.
2. Landing Pages
Landing pages allow you to target your audience, offer them something of value, and convert a higher percentage of them into leads, while also capturing information about who they are and what they are interested in.
3. Social Media
Social media helps you increase brand awareness by directing traffic straight to your site. Social media also allows you to connect with your target audiences on the platforms where they congregate.
4. Content Strategy
Content strategy refers to the management of tangible media that you create and own: written, visual, downloadable ... you name it. It is the piece of your marketing plan that continuously demonstrates who you are and the expertise you bring to your industry. A well-planned content strategy will help you reach the right prospects, at the right time, in the right place.
5. SEO
SEO is important because it helps people find information and discover pages on the world wide web. SEO is especially important for businesses as it ensures they're answering their audience's biggest questions on search engines, while driving traffic to their products and services.
6. Advertising
Paid media advertising provides a slew of lead generation benefits. It lets you raise awareness of your brand; it drives potential customers to your business; it promotes sales for both new and existing products; it lets you introduce new products and services to the market; it lets you target prospects where they are.
7. Email Marketing
Email helps you boost conversions and revenue by providing subscribers and customers with valuable information. Email lets you follow up with prospects who've shown interest on your website. Email lets you announce new products, services and other news to your subscribers.
8. Marketing Automation
Marketing automation is a combination of software and strategy that allows you to nurture prospects with highly personalized, useful content that helps convert prospects to customers faster and more efficiently.
9. CTAs
When used on your website and in emails, calls-to-action (CTAs) allow you attract new leads, convert existing leads into customers, or promote an event. CTAs should be visually attractive, action oriented, and easy to spot on a page or email.
10. Video Chat
Video is as close as you can get to an in-person meeting. Having more video meetings, as opposed to long emails and phone calls, helps you create better relationships with new clients, better conversations with struggling customers, and better connections with your marketing audiences.
11. Conversational Bots
Visitors, prospects, and customers expect to connect with you in real time via live chat. But supporting one-to-one conversations on a larger scale can be a challenge.Bots can help you qualify leads, book meetings, provide answers to common customer support questions, and more.
12. A/B Testing
A/B testing lets you see which content performs best for different audiences. A/B testing your landing pages can help you get up to 40% more leads for your business.
13. Live Chat
Live chat lets you interact with visitors, prospects, and customers in real time.
14. Forms
Forms lets you gather essential information about your leads -- name, email, company, pain point. You can gather different informational elements on different pages, and even use progressive fields to build out full profiles of prospects.
15. Smart Content
Smart content lets you alter the content displayed to a visitor based upon characteristics that you define. In this way, you create a more personalized, persuasive, contextually-relevant experience.
Get a Free Consultation
Need help attracting and nurturing leads? Schedule a free consultation with an Inbound 281 digital marketing strategist.