Today, Inbound 281 announced that it achieved Gold tier status as a HubSpot Certified Agency Partner.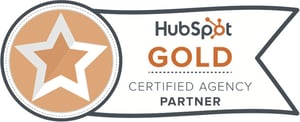 HubSpot, a leading CRM, marketing, sales, and customer experience platform, works hand-in-hand with Agency Partners to grow their businesses through inbound software, services, and support.
Of the announcement, HubSpot Channel Account Manager Chris Alexis said, "We are thrilled to see Inbound 281 gain Gold status in the HubSpot Partner Program. Their savvy, sophisticated, and innovative approach to inbound makes them a company that businesses everywhere can learn from. Watching them transform their Agency with inbound has been a rewarding experience!"
Over the past year, Inbound 281 has grown its business by incorporating inbound strategies to attract, engage, and delight customers. The company recently relocated to Troy, Michigan to be closer to southeast Michigan's thriving business community.
Inbound 281 is also the host agency for the Detroit HubSpot User Group (HUG). In that capacity, the agency hosts quarterly meetings that bring together HubSpot users and inbound marketing enthusiasts.
About Inbound 281
Inbound 281 grows market share by accelerating inbound marketing & web design strategies. Their 2019 "Fuel Your Inbound Marketing Engine" Professional Development Series of workshops feature talented expert speakers and presenters who provide knowledge and tools to help companies grow their business.
About HubSpot
HubSpot is a leading growth platform. Since 2006, HubSpot has been on a mission to make the world more inbound. Today, over 56,500 total customers in more than 100 countries use HubSpot's award-winning software, services, and support to transform the way they attract, engage, and delight customers. Comprised of Marketing Hub, Sales Hub, Service Hub, and a powerful free CRM, HubSpot gives companies the tools they need to Grow Better. HubSpot has been named a top place to work by Glassdoor, Fortune, The Boston Globe, and The Boston Business Journal. The company is headquartered in Cambridge, MA with offices in Dublin, Ireland; Singapore; Sydney, Australia; Tokyo, Japan; Berlin, Germany; Bogotá, Colombia; and Portsmouth, NH. Learn more at www.hubspot.com.