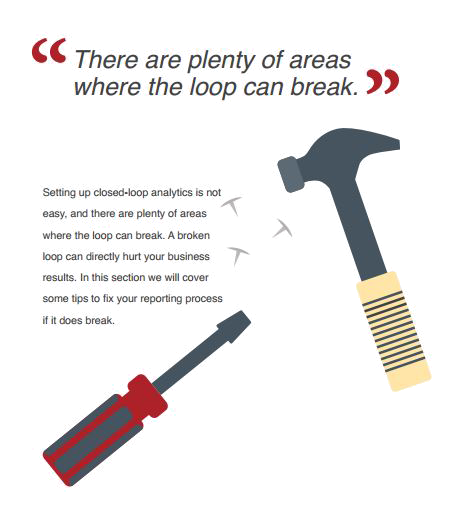 Closed-loop marketing isn't something that can be set up and left on auto-pilot, warns Mark Parent in the new Ebook. "An Introduction To Closed-Loop Marketing." As exciting and rewarding as a closed loop system is to marketing consultants, in order to ensure its success, marketers need to be vigilant of the inevitable errors that integrating marketing and sales communications can create.
"There are plenty of areas where the loop can break."
Setting up closed-loop analytics is not easy, and there are plenty of areas where the loop can break. A broken loop can directly hurt your business results.
How To Fix Breaks In Your Reporting Process
1. Set Tracking Code On Every Website Page And On Subdomains

If any of your pages are missing tracking code, then you'll break the loop. The same goes for all of your subdomains.
2. Create Tracking URLs For Ads, Emails and Offline Events

While a cumbersome task, it's well worth the effort. Get in the habit of creating these URLs for any marketing event or campaign and you'll be able to look at clean results and gain an accurate picture of how each of your channels and campaigns perform.
3. Associate A Visitors Online Session With Their Lead Information

After a visitor first lands on your website and before they fill out a landing page, there is a key period of browsing that you should be aware of. This is the place where most marketers stumble because it's technically difficult – so you'll need to find an integrated system that does this for you.
4. Ensure Your Sales Team Is Properly Closing Leads

All of the work you've done to properly track visitors will go up in smoke unless you can ensure your sales team is on the same page. Devise a system that both you and your sales team can agree upon, and make sure it's easy for them to close business in a way that will close the loop.

Bonus tip: Once you've agreed on terminology, make sure you're using common terms to develop a service level agreement (SLA) between sales and marketing. An SLA is a contract between the two groups that sets expectations for the quantity and quality of leads that marketing will deliver to sales, and outlines the steps that sales reps will take to follow up on those leads.
And The Biggest Closed Loop Error Of All: Not Nurturing Low Graded Leads
In "An Introduction To Closed-Loop Marketing," readers will learn that if you haven't set up lead nurturing to follow up with your low graded leads, you're missing out on an opportunity that can make your process much more efficient. Shorten your buying cycle and provide your most engaged leads to your sales team using some type of behavior-based communication that allows your organization to stay top of mind for contacts. This oft-missed step, while not necessarily a break in the loop, can translate to thousands of dollars in lost revenues to the competition.
Closed-loop marketing represents a tremendous growth potential for marketing consultants.
To learn more about the fundamentals, how it works and what you need to set it up, download "An Introduction To Closed-Loop Marketing" today!