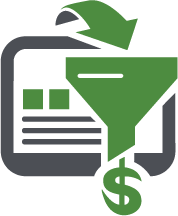 Marketing dollars have shifted away from traditional outlets like PR and cold calling, but the skill sets of internal teams lag behind. For some, the time and resources needed to train internal people on how to master inbound marketing must-haves like SEO and email marketing do not exist.
As a result, businesses wanting to take advantage of ROI charged online tactics like blogging and social media are looking to outside agencies for help. These agencies can use their deep online experience to help companies and businesses short on time and internal resources increase their online visibility and lead generation efforts.
One size does not fit all
However, it is not one size fits all. Agencies come in all shapes and sizes, with different specialties and talents. But there are core values and skill sets that make some better than others. Here are some most important values to consider when choosing an inbound marketing agency that offers the right services.
HIRE A MARKETING AGENCY THAT DELIVERS THE INBOUND SERVICES THAT MATTER THE MOST
While a specialty or two like social media or email is to be expected (more on that later), any firm that asserts themselves as an inbound agency must offer four core services. These services are each comprised of several tactical components, but to execute in a way that delivers real value and maximum impact, all these tactics need to be performed together. Seeing that an agency can fold all these tactics together into one cohesive strategy is a good sign they know how to execute and get results.
An inbound agency must offer 4 four core services
The first core service of inbound marketing is an agency's ability to generate traffic to a website through SEO, blogging and social media sharing. Second, agencies should be able to tell their clients they can develop the premium content needed to capitalize on that traffic by building landing pages and managing online lead generation efforts. Third, agencies need to be able to construct targeted lead nurturing campaigns aimed at converting those leads into customers. Finally, in order to iterate and improve, analysis and measurement need to be present at every step in the process.
Being able to dig into the results of your online efforts is critical. Doing so on a regular basis will allow agencies to repeat successes and tune underachieving campaigns to get better results. More on this later, but make sure reporting and analysis are second nature to any prospective agency you're thinking of working with.
Three 3 Key Questions to ask your prospective Inbound Marketing Agency:
Do you offer Traffic Generation, Lead Generation, Leads-toCustomers and Analytical-Focused service packages?
What tactic or tactics does your firm use to deliver each of these service packages?
What past or current client example(s) best illustrate success you have delivered for each of these services?
The right Inbound Marketing Agency will places an emphasis on measurement
The Internet is an infinitely measureable place. This makes each piece of the inbound methodology trackable and interpretable. This should be a fact leveraged heavily by any inbound agency you are considering working with.
Your prospective agencies should have presentations littered with the words "metrics," "benchmarks," and "analytics." You have goals. You are trying to meet those goals by hiring this agency. Therefore, your agency should be as focused on charting success in a data driven way as you are. Progress made toward your goals should be measured at every step of the way. An inbound marketing agency worth its weight will be able to track all campaigns and report on performance regularly.
Are you interested in learning more about how to choose an Inbound Marketing Agency?