Customer relationship management systems (CRM) have come a long way. Today's CRMs have evolved significantly from earlier versions, which were merely glorified spreadsheets for logging notes about a prospect that could be referenced for future conversations.
Today's CRMs do much more. They provide two-way interaction with prospects via your website, email, social media and much more. The HubSpot CRM is one such example. It is a modern marvel. It is robust, interactive and multi-functional. It is a salesperson's best friend. At our agency, we use the HubSpot CRM each and every day.
In this article, I want to walk through how your sales team can capture more inbound leads using the following HubSpot CRM tools:
Website Forms
Website Pop-Ups
Chat Messaging
Prospect Tool
Chatbots
Before we get started, remember: if you want to learn more about these features, you can always schedule time with an Inbound 281 lead generation expert.
Website Forms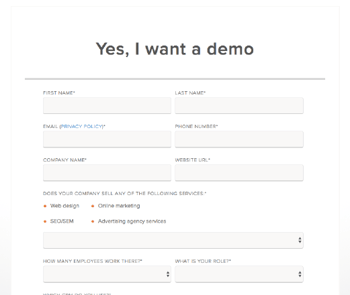 The first and foremost lead capture features are website forms. Forms allow people visiting your website to provide their information to you directly. Your website likely already has forms on it, but are these form submissions going directly into your CRM and creating contact records that the sales team can see and use instantly? If not, they should. This is basic lead management 101 in the digital age. With HubSpot, this lead capture happens automatically and instantaneously. If your forms are connected, your sales team sees these new contact records as soon as they are collected.

Mark's Tip: Don't ask for too much information on your forms, especially top-of-funnel forms. Long forms can be a turn-off. Gather the essential info on the form, then capture more as you nurture the lead along the journey.
Website Pop-Ups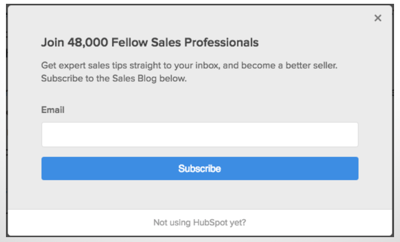 Pop-ups are another useful tool for inbound lead capture. Pop-ups are designed to capture just a few pieces of information -- typically first name, last name and an email address. The email address is key. Modern CRMs are able to use the company email address to identify which company a prospect works for, as well as where the company is located, its size, its industry, and more. This information is automatically added to the contact's record with the salesperson not having to lift a finger, giving sales insights on the value of the organization to the sales efforts.
To make the most of the data you gather from forms and pop-ups, your CRM should allow you to filter by form conversion or pop-up conversion. This way, you can ask yourself: Which tool is working best? Is this a good lead or not? Are we collecting the right kind of information? If not, what information is missing?

Mark's Tip: To optimize pop-up performance, you should have a number of them on your website. For example, you can have a pop-up that allows visitors to join your blog, a pop-up that lets visitors get notifications of events, a pop-up that provides a simple download, and more.
Chat Messaging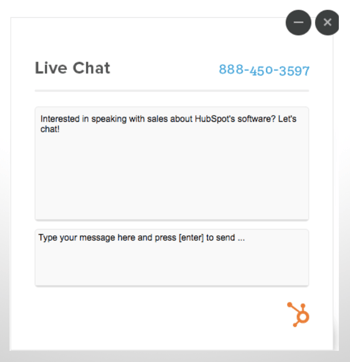 Chat messaging is a live chat feature that can support the sales team. The minute a visitor hits a website, the chat or message feature allows the website visitor to start a conversation. Messaging may require the prospect to provide their first name, last name and email so that you can capture this information up front, then begin alive message.
Chat messaging offers a slew of valuable features. For example, if your focus is B2B, visitors might have product or service questions. In anticipation of this, you can pre-build messaging scripts around common questions, then easily select them to help you expedite quick, consistent conversations and resources.
Different chat panels or chat messages can be put on different pages of your site, so if you have a particular product or service you might provide more in-depth interactions and messages asking a different opening question that starts to engage your audience.
Also, by putting these messages on different pages, you'll learn where the most valuable conversations are being held. From there, you can really hone into those pages and start perfecting your process.
HubSpot's chat feature allows you to do some very amazing personalization. For instance, you can have a chat pane that speaks directly to an anonymous visitor or someone who has visited your site before.
For known visitors, you can display messaging that is based on where they are in the buyer's journey: awareness, consideration, decision or on other data you have in your CRM. Those in the awareness stage might receive different messaging from those in the decision stage. Literally, any combination of data you've collected can drive a chat feature to display the kind of messaging you're looking for.
Chat messaging can not only capture and store lead information, it can transfer the captured lead information in real-time to a salesperson, so that salesperson could follow up after hours or on the weekend, if needed.
Chat is a big departure from the typical sales process. It is the future of inbound lead generation for sales. It's important to understand that the strategy and resources invested in these tools will pay-off over time and support the sales process.

Mark's Tip: One of the major ways chat can assist sales is during non-business hours. If your offices are only open M-F from 8:30 a.m. to 5 p.m., these messaging tools allow you to be open 24/7. Imagine, after a weekend, if the sales team came in Monday morning to a list of weekend leads from your chat feature.
Prospecting Tool
The prospecting tool is a feature of the HubSpot CRM that shows a list of companies who have visited your website. Using this tool, sales can highlight the companies that have the best fit, get notifications when they visit again, and begin the process of research to identify the right contacts at those organizations. Organizations are also associated contacts provided they are already in the CRM.
For example, if a company had interacted with you previously and went cold, and now they're coming back to your website, now might be a good time to reach out to that contact and restart the conversation.

Mark's Tip: A prospect visiting your pricing page three to five times might be a clear indication it's time to reach out to them as they might be in the decision phase of the buyer's journey. This may not necessarily be the best time for a hard sell, but an excellent time to to figure out what's changed, what the prospect is looking for, and find a way that you can help them with whatever they're trying to accomplish.


Chatbots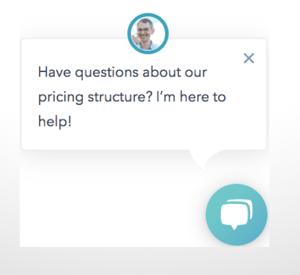 The last tool in HubSpot's CRM set that I want to review are chatbots. Chatbots are among the most versatile tools in the HubSpot arsenal.
Chatbots can do everything from qualify leads, to book meetings, to provide customer support to conduct one-on-one conversations. Single or multiple bots can be put on website pages, where they can be geared towards specific services and products.
Among the many things bots can do:
Bots can ask questions
Bots can deliver resource links
Bots can capture leads.
Bots can provide customer support
Bots can book a meeting
With bots, so much can be configured to hand the conversation off to a live agent or sales, create support tickets, add users to lists workflows and more. The list goes on and on. Qualified leads can be enrolled into specific workflows to learn about a specific products or services.
To make bots more human-like, chat-bots can deliver friendly or more personalized messages based on the information you already know about a contact in your database.
Best of all, information collected by your chat-bots is automatically synced and stored in the contact's CRM record, giving your sales and service teams a crystal-clear view of your relationship with the prospect or customer.

Mark's Tip: What's very unique about bots is they can also be programmed to be driven by data in your CRM. For instance, an anonymous visitor could see a different message from a known visitor. Someone in your database in one stage could see a different message compared to someone in different stage. Likewise, customers could see different messages than prospects. The possibilities are endless.
Conclusion
Forms, pop-ups, messages, the prospects tool and chat-bots are some of the HubSpot tools that sales teams can use to create and qualify inbound leads. Experiment with these tools to find the right combination that works best for your target customers. As you find ways to meet more customers where they are, you'll find more qualified leads coming into your pipeline and more sales coming out the other end.