Michigan is winning, of course. It's no contest, really. Just look at the stats: 58-48-6, in favor of Michigan.
Oh, you thought we were talking about the other War Between the States. That's nothing.
The real war between the states has been going on for 112 years, and, although Ohio State may win some skirmishes along the way (much to the chagrin of Michigan fans), the Wolverines will continue to crush the Buckeyes.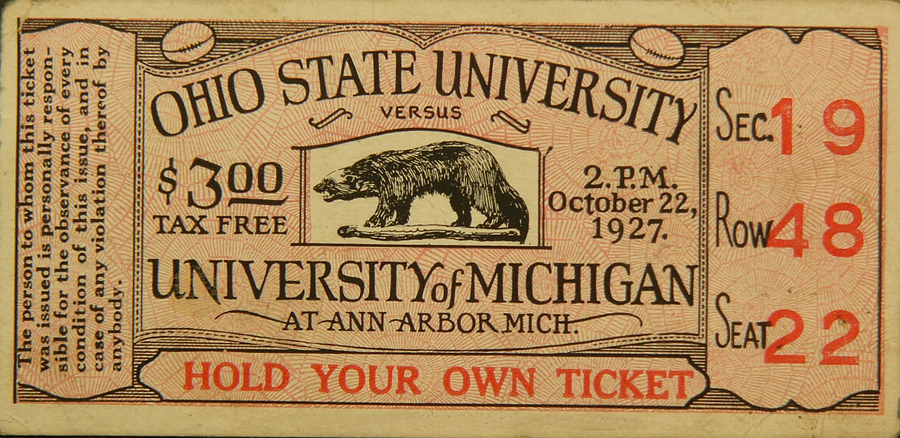 The War Between the States has been raging for 112 years,
but Michigan will always come out on top.

The Storied History of "The Game"
While it is tempting to get into exactly what the heck a Buckeye is, that is not going to happen here. Instead, a stroll down memory lane is definitely in order.
First off, it is safe to say that the rivalry between the University of Michigan and Ohio State is something unique.
Known simply as "The Game", this football rivalry was ranked by ESPN as the greatest North American sports rivalry of the twentieth century.
"The Game" has been played 112 times, beginning way back in 1897. Now, no one is saying that Michiganders and Ohio folk hold a grudge, but let's just say the play has been ... robust. Michigan won that first game back in 1897, setting the pattern that they fully intend to stick by in perpetuity.
In fact, it took until 1919 for Ohio to win their first game against the Wolverines.
That's not to say that the Buckeyes are pushovers, however. Both teams play to win, which is likely why six of their match-ups have resulted in a tie.
According to the article "Numbers: Everything You Need to Know for the 112th Meeting of Michigan-Ohio State," since 1918, either Michigan or Ohio State has won or shared the Big Ten championship 63 times, including 39 times over the last 47 years (since 1968). Between them, the two schools have 19 national championships and 77 conference titles.
Play between the Wolverines and Buckeyes is, without a doubt, serious stuff.
Drawing a Crowd
Great football and high emotion continue to draw crowds every year to The Game. Michigan Stadium has drawn over 100,000 fans for Michigan-Ohio State for every meeting since 1969, a streak of 23 straight games.
The average attendance for the eight games in Ann Arbor since 1999 is 112,178. Record attendance for the "The Game" is 114,132, set on Nov. 26, 2011 at Michigan Stadium. By the way, for that little outing, Michigan won, 40-34.
Why is this rivalry so enduring?
Likely it is because both teams put their heart and soul into the game, battling it out time and again with persistence and high hopes for the home team. While Michiganders do not allow for any talk of defeat at the hands of their rivals, they know that Ohio will be bringing the best they have every time they walk into Michigan Stadium.
Of course, that is not troubling in the slightest to a true Michigander. It just adds a bit of spice to the sweet taste of victory!
Lessons from The Game
Inbound marketers can actually learn a lot from The Game. Here are the lessons that this epic football rivalry brings to the table:
Passion draws a crowd. Market what you are passionate about. Let that passion infuse every piece of content you put out.
Persistence pays off. Inbound marketing requires persistence, especially in the area of social media marketing. Establish your presence by consistently putting out your message across multiple social channels. Consider automating parts of your campaign for greater efficiency.
Go big, or go home. Your branding message should be loud and clear, conveyed with conviction and an all-in attitude. Remember to leave it all on the field.
Develop a winning game plan. Digital marketing, like football, requires a multi-player approach. Map out your digital strategy carefully, and use your playbook to keep things on track.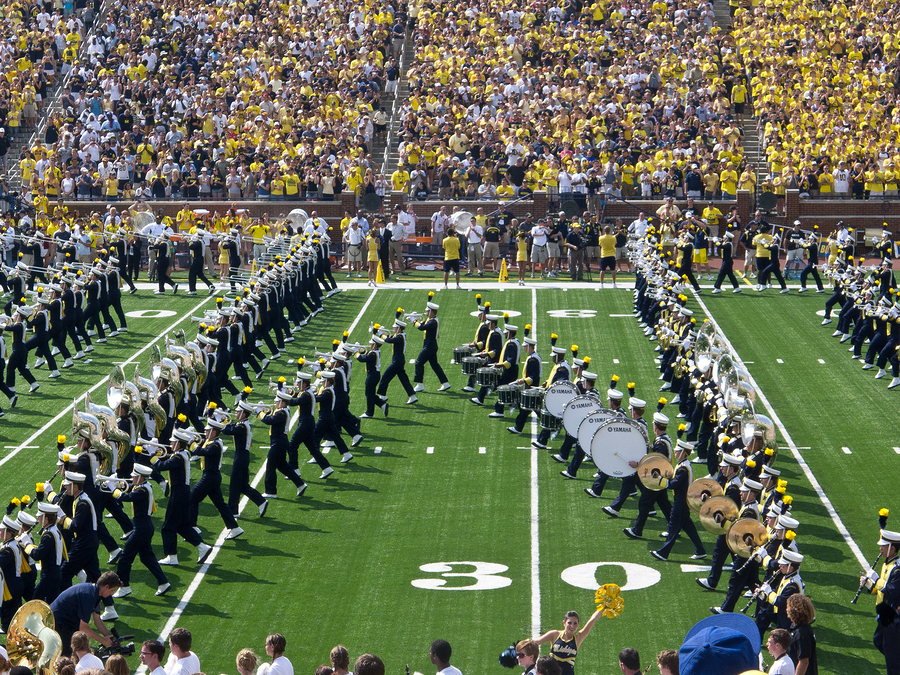 Market with the same passion as a Michigan fan at a
Michigan-Ohio State game #MichiganMarketing

Marketing to Michiganders through Football
The Game offers a number of opportunities for Michigan inbound marketers to grab the attention of fellow Michiganders.
Brainstorm ideas for how to incorporate the state's sports obsession into your marketing strategy. Design campaigns around Michigan's fascination with football to draw attention to your products and services.
Contact us today for suggestions about how to ramp up your digital marketing campaigns to leverage the power of Michigan's passion for The Game. You can't lose by teaming up with an inbound marketing agency that roots for the Wolverines!
Make sure to connect with us on LinkedIn to get valuable insight on the latest news in marketing and website design. Follow us here: