The Lean Inbound Marketing Methodology Explained
Lean inbound marketing is an approach to sales, marketing and customer service that combines the best of two worlds:
inbound marketing
lean marketing
Inbound marketing is a business methodology that attracts customers and helps companies grow by creating content and experiences tailored to the customer. Inbound marketing forms connections by providing customers what they are looking for to solve their problems.
Lean marketing (aka marketing automation) uses technology to create efficiencies that are otherwise unattainable with traditional marketing. Lean marketing helps you implement inbound marketing and get the most from your resources and investments.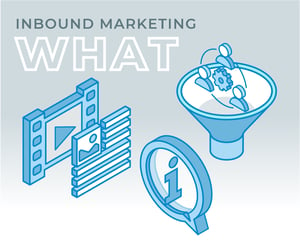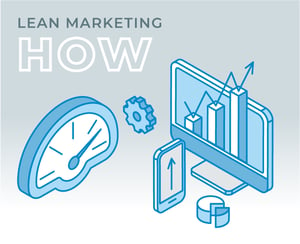 Think of inbound marketing as the "what" and lean marketing as the "how" of lean inbound marketing. When combined, inbound marketing and lean marketing form a win-win scenario:
Customers win by being given the knowledge they need to make informed decisions.
Businesses win by getting more marketing work done and generating more sales, all the while creating stronger bonds with prospects and customers.
If your marketing efforts aren't as productive as you'd like, the lean inbound marketing strategies described here can help.

Table of Contents
Key Takeaways
Lean inbound marketing combines the best of inbound marketing and the best of lean marketing (aka marketing automation)
Lean inbound marketing is built upon three principles: attract, engage, delight
The Flywheel shows how to deliver exceptional customer experiences
To attract consumers, you should create worthwhile content that offers value. This content should provide information about your products or services that consumers can immediately use.
As you engage with consumers, ensure that you're solution selling rather than product selling.
To delight your customers, listen to them and ask for feedback. Then assist and support.
The 3 Principles of Lean Inbound Marketing
As described earlier, lean inbound marketing builds on the tenets of inbound marketing.
Inbound marketing focuses on growing business by building meaningful relationships through education with prospects and existing customers.
Inbound marketing is not hard-sell marketing. It is not intrusive. It meets customers where they want to be met online.
When implemented using lean practices, inbound marketing is more effective.
Just as lean manufacturing reduces inefficiencies in manufacturing operations, lean marketing eliminates inefficiencies across sales and marketing processes.
It all revolves around three principles:
Principle 1: Attract
To attract customers and prospects, companies must establish themselves not as salespeople but as trusted advisors, educators, and allies.
Principle 2: Engage
To engage prospects and customers, companies must provide guidance and solutions to the customer's pain points. In short, build trust through knowledge. Once that is done, prospects are more likely to buy.
Principle 3: Delight
When companies attract and engage (rather than sell), they facilitate trusting partnerships, making customers and prospects happy. What's not to like about that?
The Flywheel
The flywheel is a business model adopted by a leading marketing automation platform, HubSpot, to illustrate the momentum an organization can gain by prioritizing and delivering exceptional customer experience.
The flywheel is a replacement for the old-fashioned sales funnel, which was linear and in which customers were simply flushed through. Why is the flywheel better?
The flywheel is circular.
The flywheel is based on the three principles of inbound marketing: attract, engage, delight.
In the flywheel, nobody ever leaves. They simply move through life stages in a circular, interconnected fashion.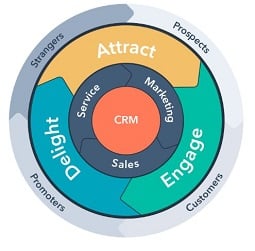 With the flywheel, your marketing, sales, and service functions can add force and eliminate friction throughout the attract, engage, and delight phases. All organizational functions are also responsible for removing friction from your flywheel.
For example, in the attract phase, marketing will likely play the biggest role by doing things like blogging, event marketing, and running paid ads, but your sales team can also add force by engaging in social selling, and your customer service team can add force by making it easier for current customers to make referrals.
Once you attain enough customers and engage and delight them, they can keep your flywheel spinning by promoting your organization and bringing new customers to you. Over time, your flywheel allows you to grow without continually investing in customer acquisition.
Let's unpack some more inbound marketing strategies.
How to Put Inbound Marketing Principles Into Play
Now that we've established the three lean inbound marketing principles and seen how they are integrated in the Flywheel, it's time to identify how to make them happen. Below are useful strategies to attract, engage, and delight customers.
Attracting Strategies
One of the best ways to attract prospective customers is through free, educational content. Think critically about their needs and use content that address their pain points and solves their business problem. Why? Because helping is establishing trust. And, when trust is established, qualified prospects are more likely to engage those who have helped them first.

To attract visitors, create blogs, downloadable guides, and videos that offer value. This content may provide information about using your products or services provide insights and strategies that consumers can immediately use.

Position yourself as an educator and always helping.
Engaging Strategies
Solution sellers ask, "How can I be of service?" Salespeople ask, "What can I sell you?" There's a subtle, but critical difference between the two questions. As you engage with consumers, ensure that you're solution selling rather than product selling.

One way to sharpen your customer engagement strategy is by using push notifications. These are short messages that pop up outside of the browser while audiences browse your website. These push notifications may connect your audience to customer support or allow them to opt-in for free content, events, or discounts.

A more general approach asks you to take a critical look at how you engage with customers over the phone. If you don't have a telecommunications strategy, start there.

If you're looking for a good example of effective engagement, Sweetwater (an online retailer of music and pro audio equipment) is a great example. If there's a lull in communication, Sweetwater reps make quarterly calls to their audience to check in, ask about previous purchases, assess satisfaction, and answer any questions. These calls are brief, casual, and "unsalesy."

Of course, Sweetwater reps are hoping that consumers will make additional purchases. But that is never, ever mentioned in the call. If you think about your own experiences, customers do business with businesses who help them.

Delighting Strategies
Nothing delights humans more than being seen, heard, and understood. You can disarm even the most hostile person simply by listening, asking for clarity, empathizing, and then saying, "Is there anything I can do to help?"

To delight your customers, listen to them and ask for feedback. Then assist and support. You can delight customers by incorporating well-timed chatbots and surveys into their website browsing experience. Or, you can do it the Sweetwater way and simple make quarterly calls to check in, ask questions, and solicit feedback.

These are simple acts that don't cost you a penny. Yet customers are delighted by it.

Actionable Ways Lean Marketing Accelerates the Flywheel
For each of the strategies described above, a lean marketing automation platform like HubSpot, combined with the help of an expert agency like ours, helps accelerate the flywheel in the following ways.
Accelerating Attraction
Build content repositories to store and present content customers want
Build landing pages to offer content and capture information
Manage social media campaigns automatically
Manage paid media campaigns automatically
Create email sequences for sales people
Accelerating Engagement
Create email workflows to share content with customers based on customer behavior
Creating website chat bots
Creating website notifications and sign-up forms
Automating the sending of reminder emails
Creating customized, personalized content based on customer preference
Suggesting additional products, services and content to customers
Accelerating Delight
Creating and sending customer satisfaction surveys automatically
Send renewal reminders
Informing customers of new products and services
Creating knowledge-bases
Providing a platform for support and service teams
Automating the creation of help desk tickets and logs and follow up
Is the Lean Inbound Marketing Methodology Right for You?
We've been practicing and teaching our lean inbound marketing methodology for more than a decade and a half. And in that time, we've helped countless companies of all sizes. No matter where you're at in your marketing journey, we can help.