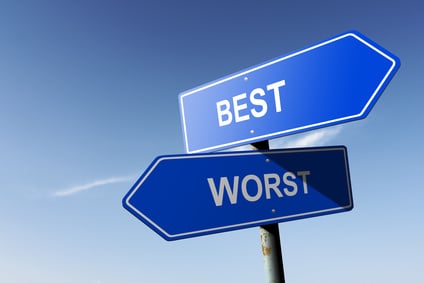 Did you know that Return Path found marketing emails account for 70% of Spam complaints? Why? Simple. Most marketing emails are terribly written, terribly designed and…well, just terrible!
How can you ensure your insight emails aren't equally as abysmal? Easy. By avoiding what those 70% of email marketers do to give the rest of us a bad name.
10 Elements Of A Terrible Insight Email
A Generic Subject Line – More than half of the emails most people get are from marketers like yourself. So, with so many promising deals and great services and the end-all-be-all of every nook and cranny sector, what are you doing to make your emails seem remarkable and worthy of being opened? For an insight email's subject line to be good, it should compel an action, a reaction, or the promise of a benefit that's somehow meaningful to them.


'Do Not Reply' – How cold and robotic is it to have an email sent to you with no one on the other end with whom to discuss its content? Marketers should be promoting two-way conversations in all communications, particularly email.


Bad Personalization – If you don't check for broken dynamic content, then your subscribers are going to get an embarrassing email with brackets like [FIRSTNAME] and [SALESPERSONNAME]. Not only does that come across as lazy, but insincere as well. That's pretty much the antithesis of insight email, no?


Amateur Design – If your email looks like something you conjured up in The Print Shop on your Apple IIe from the mid-80s, don't send it. Clean and simple layouts are best – and there are countless free design tools available to email marketers that will do the lion's share of the work for you. Avail yourself of them unless you're a graphic artist by trade.


Cold, Impersonal Language – If you want a person to read the content, it should come across as though an actual human wrote it – this is particularly true if there's an actual human taking credit for the content in the signature line. Clear, natural and genuine content that speaks to the individual's needs and wants rules the day.


Bland Content – Don't just send an email because you haven't sent one out in a while. Every marketing email should have a reason to exist – and that reason is content. If you don't have anything valuable to say, it's best not to say anything at all.


No Clear Way To Unsubscribe – Don't make it feel like a labyrinth to get out of receiving emails from you. Make it easy. They may still love your company but aren't interested in learning anything else – maybe they know all they feel they need to know at this point. And, when they unsubscribe, stop sending emails as quickly as you can. Nothing is more annoying and can ruin your reputation with a customer or client than not following their directives.


Generic Images – Stock photos are lame. Clip art? Even worse! Images should be chosen for a reason, something contextually related to the content – in fact, it should drive the content home. If they're not enhancing messages, they are likely taking away from it.


Images That Don't Display Well (Or At All) - What's worse than a non-sequitor image? An image you can't see at all (or that falls off of the page). And, what about email clients that can't display images at all? If you're relying on images to tell part of your story, make sure you're also including ALT text that can fill in the blanks for when those images are occasionally missing.


No Call To Action – So you're having an event and you want to tell everyone about it. Great. How do they RSVP? Make it easy and obvious to take the next conversion step.
As you can see, sending junk email is a choice – a lazy choice – and one that's easily avoided. So, now that you know what makes emails terrible, let's all agree to stop sending bad marketing emails, ok?
We hope you've enjoyed this series of insight email blogs and that you're ready to put the practice in motion during your upcoming email marketing campaigns. Remember, we're always here to help you refine your strategy.
Next up: a series of posts on Agency Marketing Services…stay tuned!