Download for free today
The Ultimate Guide to SEO in 2023
A simplified guide that will cover everything you need to know to elevate your company's digital profile and gain more traction online.
SEO or Search Engine Optimization can seem complex and confusing when you are just starting to scratch the surface. This HubSpot guide breaks down SEO back to its basics so that you can build your own successful SEO strategy.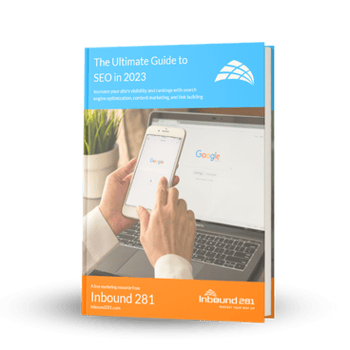 Is your content showing up in search results?
SEO is the primary source of organic web traffic. To increase your brand awareness, drive traffic to your website, and ultimately convert more leads, you will need a well-planned SEO strategy to help put your company in front of your customers online.
We will take you through a variety of topics that matter from an SEO standpoint including:
The basics of SEO
The Importance of SEO
How Google's algorithm chooses page rankings
What negatively impacts your SEO
What you need for a strong SEO strategy and how to improve it
And more
Sincerely,
All of us at Inbound 281
Get your Ultimate Guide to SEO in 2023