Download the free online guide today
The Who, What, Why, &
How of Digital Marketing
Would you believe us if we told you the number of people who go online every day is still increasing?
The answer is yes. At Inbound 281, we still get many questions from people about digital marketing — in other words, any form of online marketing. This guide will break down a variety of essential digital marketing topics so that you can start implementing digital marketing into your own marketing strategy and start reaching your audiences where they are spending time — online.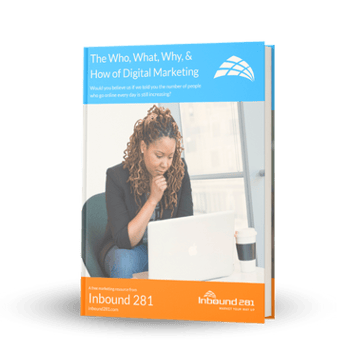 Have you been thinking about integrating digital marketing into your strategy?
Marketing has always been about connecting with your audience in the right place and at the right time. In today's case, that means the internet.
We will take you through a variety of topics to get you ready to launch your digital marketing strategy including:
What is digital marketing
The Importance of digital marketing
13 types of digital marketing you can apply (including SEO, content marketing, social media marketing, and more)
Various campaign examples
And more...
Sincerely,
All of us at Inbound 281
Get The Who, What, Why, & How Guide to Digital Marketing