ACCELERATE YOUR MARKETING TRANSFORMATION
BENCHMARK DATA TO GUIDE YOUR MARKETING EFFORTS
ACTIONABLE STRATEGIES & TACTICS TO ALIGN MARKETING, SALES & CUSTOMER SERVICE FOR GROWTH
From a collection of data on all things marketing in 2022. Get an inside look into how to market your business, build meaningful connections, grow your audience, and turn your marketing efforts toward the buyers of today.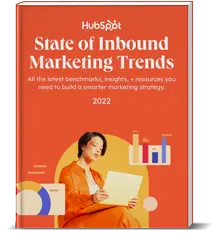 GETTING COMPETITIVE INSIGHTS ON MARKETING BEST PRACTICES SHOULDN'T BE HARD.
Customer experience is the number one driver of business growth. This trend has accelerated the impact digital transformations have on the buyer-seller relationship. There is no going back.
Learn the best ways companies are approaching marketing
See emerging trends in marketing and marketing benchmarks
Stay up to date on digital trends including video, email, social media, and more
Learn how, where, and when to target your digital marketing efforts for the best results
See what the future of marketing may hold
Marketing is the largest business area using automation, with marketers using automation 76% more than sales and 139% more than finance. (Go get 'em, marketers - work smarter not harder!)
Sincerely,
All of us at Inbound 281
GET THE STATE OF INBOUND MARKETING REPORT HERE
DISAPPOINTED WITH YOUR MARKETING RESULTS
ANY OF THIS SOUND FAMILIAR?
You've invested a lot of time and resources in your website but still suffer from a lack of results.

Not sure what channels to use to support your marketing efforts and goals?

Not sure what other marketers are having success with? No data to compare yourself to?

You're not getting enough traffic to your website.
It's difficult to get buy-in from management for proper budgets needed to be successful in marketing efforts.

Not sure how valuable marketing automation would be to support your efforts?

Your sales team is struggling to get qualified prospects to talk to.

You're not getting qualified leads from your website.
Get this download to benchmark and learn how successful marketers are supporting their marketing, sales, and customer service goals.
A MODERN MARKETING REPORT TO HELP YOU WITH YOUR MARKETING EFFORTS
Optimizing your marketing is crucial to increasing traffic, improving conversion rates, generating more leads, and increasing revenue. This report covers some of the following areas and more.