FRUSTRATED WITH COMPANY GROWTH?
B2B Marketer's Guide to Growth Services
Actionable Strategies & Tactics to Align Marketing, Sales & Customer Service for Growth
Sales, marketing and service have changed dramatically. New technologies now enable companies to reach prospects and satisfy customers like never before. Download the eGuide to learn more.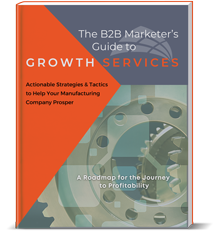 Reaching your growth goals goals shouldn't be hard
Growth services makes it possible to align the entire marketing, sales and customer service processes to the buying habits of potential customers.
Get a 360-degree view of your customer's buying journey from prospect to customer to promoter of your products and services
Leverage digital tools and automation to save time and drive engagement & growth
Automate lead insights to build context for nurturing campaigns to support sales opportunities
Leverage digital tools to to drive engagement
Sincerely,
All of us at Inbound 281
GET THE B2B Marketer's Guide to Growth Services
FRUSTRATED WITH COMPANY GROWTH
ANY OF THIS SOUND FAMILIAR?
You've invested a lot of time and resources in your marketing but you're still suffering from a lack of results.

I feel like we could be more productive. I want to automate more of the busy work.

Your sales team is struggling to get qualified prospects to talk to?

Customer requests are falling through the cracks?
We have a lack of a structured sales process. Our sales opportunities are being lost due to poor follow-up?

"I feel like we have no structure to our customer service. It's not a repeatable process.

Our customer support teams are not aligned to delight customers?

You're not getting enough traffic to your website?
Get this download to learn more about how Growth Services are supporting marketing, sales, and customer service goals.
ACTIONABLE STRATEGIES & TACTICS TO HELP YOUR COMPANY GROW AND PROSPER
A strategic approach to sales, marketing, and customer service that improves efficiency, increases revenue and enhances profitability.