GET THE MOST OUT OF YOUR BUDGET
Manage your spending with marketing budget templates
Increase your traffic, convert qualified leads, and prove ROI for every aspect of your marketing plan
Using the 8 different templates provided you can organize your marketing plan's budget in its entirety while also comparing your budget to what you actually spend.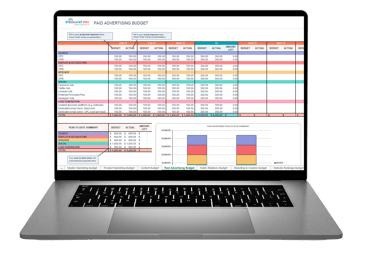 Managing a budget can be overwhelming, but we've made it easy for you.
Take advantage of our budgeting templates, all conveniently located in the same place. Our marketing budget templates include:
Master Marketing Budget
Product Marketing Budget
Content Budget
Paid Advertising Budget
Public Relations Budget
Branding & Creative Budget
Website Redesign Budget
Event Budget
These marketing budget templates are the ultimate source for organizing and controlling your B2B marketing plan budgets.
Sincerely,
All of us at Inbound 281
Get the 8 budget templates to maximize your marketing plan here
Take Control of your marketing budget
These templates are an excellent tool to help your marketing plan thrive
Coordinate all aspects of your marketing plan

Visualize where your budget is being spent

Create a realistic budget

Allocate resources more efficiently
Simplify the budgeting process

Mitigate human error

Manage your spending accurately

Assess actual results
An organized, and well-planned budget is what every successful marketing plan needs. We have designed interactive budget templates that you can use to track your monthly, quarterly, and annual spending all in one simplified place.