PROVEN PLAN TO REACH YOUR GOALS
5 Steps to Creating a Marketing Plan
Launch a killer marketing plan with these tips and ready-to-use templates.
We've assembled everything needed to build a marketing plan, including templates and a do-it-yourself marketing plan generator.
"Quick guide content courtesy of HubSpot.com"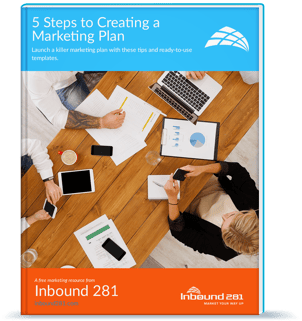 BUILD A MARKETING PLAN TO REACH YOUR BUSINESS GOALS
An annual marketing plan helps you set your marketing on the right course to make your company's business goals a reality. A high-level plan will guide the direction of your team's campaigns, goals, efforts, and growth.
With this guide you will be able to:
Conduct a situation analysis.
Define your target audience.
Write SMART goals.
Analyze your tactics.
Set your budget.
Sincerely,
All of us at Inbound 281
Get Your 5 Steps to Creating a Marketing Plan Guide Here
FRUSTRATED WITH YOUR MARKETING RESULTS
ANY OF THIS SOUND FAMILIAR?
You are not being found on Google and other search engines with your products and services

You're not getting leads from your website to support sales?

You currently don't have a formal marketing plan in place.

You've invested a lot of time and resources in your marketing and website but are disappointed with the results.
You're getting leads from your website but you struggle to capture sales-qualified leads.

Your website is not generating enough traffic to support your goals.

Your sales team is struggling to get qualified prospects to talk to.

It's difficult to make changes to your website.
To make your marketing plan's creation easier, we've put together a list of what to include in your plan and a few different planning templates where you can easily fill in the blanks.
CREATE YOUR MARKETING PLAN WITH THIS MODERN EGUIDE
This tool simplifies yearly planning and lays your strategies, and goals out in a simple template so you can identify what's most important for the coming year. Let's take a look and see what a high-level plan looks like below.