SCAN YOUR WEBSITE IN MINUTES FOR FREE
SUFFERING FROM POOR WEBSITE RESULTS?
A Website Performance Tool To Pinpoint Your Issues
Analyze the health of your website in minutes with our complimentary website performance grader. Enter your domain and email, and in less than a minute you will get an automated report on the health of your website and a list of recommendations you can DIY or hire an agency to help you fix.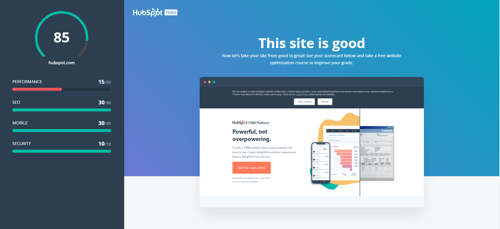 YOUR WEBSITE'S PERFORMANCE REPORT IN LESS THAN A MINUTE
Our website grader tool will check your website's performance, SEO, mobile compatibility and overall security, then deliver a comprehensive report for you to make the necessary updates yourself or hire an agency to help you.
CHECK YOUR SITE IN 3 EASY STEPS
Enter your email

- the one you'd like the results sent to
Enter your domain

- the website you want to audit
Get your results

- in less than a minute you'll get your website performance grade
DISAPPOINTED WITH WEBSITE RESULTS
ANY OF THIS SOUND FAMILIAR?
You've invested a lot of time and resources in your website but you're still suffering from lack of results.

Your products and services are not being found on Google and other search engines.

You're not getting enough online traffic to your website.

You're struggling to get qualified leads from your website.
You've never personally tested your website to see what issues you may have.

Your sales team is struggling to get qualified prospects to talk to.

Your website looks good but you feel something is not right.

Is it difficult to make changes to your current website?
Get your site audit today in minutes using our powerful website crawler that will analyze the health of your website, deliver a Website Health Grade and a list of issues to show you where your website is underperforming.
A MODERN WEBSITE TOOL TO GRADE YOUR WEBSITE HEALTH
Optimizing your website's performance is crucial to increasing traffic, improving conversion rates, generating more leads, and increasing revenue.